Home | Bio | News | Gallery | Store | Downloads | Links | Contact me

NEWS-BLOG-CRAP
July 4, 2007
For those of you interested in propaganda art (or at least my propaganda art) and in the San Fran area, can check out the opening of Start Soma's Propaganda III traveling art show starting today in San Francisco at the Phoenix Hotel. It's only a one-day show, but it will traverse the globe, and hopefully stop at a city near you.
I, personally, have 3 pieces submitted and will be alongside more famous names in propaganda art like Shepard Fairey and Aiden Hughes (if you don't know the names you'll more than likely know their art...go ahead and google, I'll wait.)
Sure there are hundreds of other artists from around the world, but definitely a good way for me to start showing off my stuff on an international basis, and be taken as a more-or-less serious manner.
Start Soma is an up and coming art outlet whose art projects and artists have been featured in various newspapers and magazines like Juxtapoz. Check them out!

May 1, 2007
Over the last year, I've had a lot of people asking permission to use my art for tubing and signature tag purposes. Those of you can now purchase my art for tags through my new licensing agreement with MyPSPtubes.com
They've approached me with a unique chance to get paid for selected pieces that I submit. They have an awesome lineup of fellow artists, some of whom are here on DA and even on my watch list.
This supercedes any and all previous requests.

April 16, 2007
Just got advanced notice that my "Revolution" piece was accepted into Spectrum #14. For those who know, it's one of those books that has a collection of illustrators that are judged by a jury, and the 'best' of those submitted (subjective, mind you) are printed in a yearly annual. Spectrum #1-#13 can be bought on Amazon.com. I think it's coming out in November of this year. For those interested in Aphrodisia 2, I have 5 pieces in there. (also on Amazon) I have a couple gallery showings as well, based on some of my work. They're pending approval, but once the dates and locations get locked down, I'll post them here.

Oct 30, 2006
Woohoo! I just received an advance copy of Aphrodisia 2 in the mail.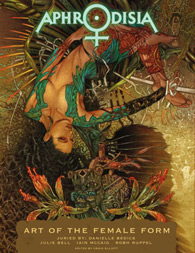 It should come out in Jan. 2007, and it features five of my pieces: Reminisce, Cherry Blossom, Ingenue, Desert Rose, and Sneaky Tiki. Look out for it! June 11, 2006
Just got news that a handful of my works will be in the upcoming Aphrodisia 2 showcase book probably due out sometime the Fall/Winter of this year. More news as this develops.


June 9, 2006
New print entitled Revolution done in a soviet propaganda style, for those of you interested, is up. You can purchase it on my Deviantart site.


May 9, 2006
New print entitled Rhythmic is up. You can purchase it on my Deviantart site.


March 1, 2006
My new Deviant art store is up and running. I'll be posting prints for sale if there's enough requests for a certain print on my Deviantart site. Two new prints entitled Reminisce and 8-Balled are up.


December 1, 2005
After months of trying to put my artwork together, I finally put up my store. *whew* Just in time for Christmas :) I'm slowly putting stuff up so come by often!


July 14, 2005
I was able to head down to San Diego Comic-Con today. And as a professional who pre-registered, it was Friggin' ridiculous to get my badge. I thought I was being smart by going in on a weekday, but the wait was 10 times as long as if I went on the Saturday. Can I get a Wha-Wha?! But other than that, it was less crowded than a Saturday, which was less stressful :)


But I managed to get what I wanted to get: A bunch of sketchbooks from some of my favorite artists. Awesome stuff. I even made some connections with a few artists which was pretty cool. Big-ups to you guys (and gals) you know who you are.


I tried submitting some stuff to the freebie tables up on the upper level, but I noticed they confiscated some of the decals. Does anyone know why? Please tell me.


Another thing I noticed was that some of the medium-sized artists (I'd rather not say who), even though this was their 3rd year or so putting their stuff out there, seemed a bit stand-offish. Like they expected people to just buy their stuff and get the hell out of their faces. I thought they were just bored but this was their first day!


But otherwise I had fun. I hope to see you all there next year when I finally get my crap together and open a booth of my own!


July 10, 2005
Basic Website is finally up. *whew* Just in time for the San Diego Comic Con, where I'm going to be pushing the website with some stealthy commando marketing :)


Home | Bio | News | Gallery | Store | Downloads | Links | Contact me